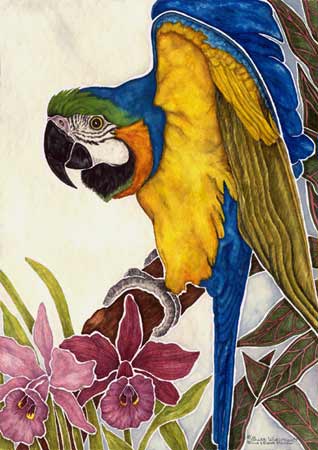 Giclée Prints
A giclée print actually looks and feels exactly the the original art. It provides for the highest quality in fine art graphics utilizing rich colors in the tradition of original lithography.
What Is a Giclée Print?
Giclée (pronounced "zhee-clay") is a French word meaning "to spray". It is a method of "plate-less" fine art printing which was developed in 1989. Museums thoughout the world substitute giclée prints for works of art too fragile to be exhibited to the public. Some museums using this method include the Louvre, and New York's Metropolitan Museum.
How Are Giclée Prints Created?
The painting is scanned to convert the imagine into a digital format usable by a computer.
This image can then be manipulated to be more faithful to the original painting. It also can be enhanced by the artist to create a print that stands on its own. After the artist is satisfied, the image is ready for the next step.
The image is now printed in a small format to allow for color corrections and changes. This process can take many, many prints until the artist is satisfied with the final result.
At this point the image if finished and can be printed to any size the artist specifies.
Unlike the lithograph print which is printed at 300 dpi, the special printers used for giclée prints print at 1800 dpi and a single printing can take as along as one hour.
Are All Giclée Prints Alike?
A true quality giclée print is printed on a special printer which uses pigmented or archival inks. These inks are water and fade resistance for up to 75-150 years. Special heavy-duty paper is used. Unfortunately, only a few higher priced printers have the capability to use the special pigmented or archival inks and the special rag-free papers. These special inks are also more costly. To some, merely printing on an ink jet printer constitutes a "giclée print".
Giclée Prints Produced by AvianArtAtlanta.com
All our prints are of the highest quality. The entire creation process is done in-house by the artist herself. During the computer process, she uses its latitude to change what she considers imperfections in the digital copy of the original painting and enhances it to her own satisfaction. Many hours are spent at this time in both image adjustment and then color correction when printed.
An Epson Stylus Pro 7500 machine with 6 pigmented, archival inks is used to provide a giclée that meets the highest standards.
This giclée print can also be customized in size (from 23 inches to 42 inches) to meet your exact requirements. These prints are also signed and numbered (as limited editions) and can be personalized by the artist if desired.
AvianArtAtlanta.com also guarantees the quality of your print and, if you are not pleased, you may send the print back and your purchase price will be refunded.
Pricing & Size
The image sizes of our giclée prints range from approximately 16" x 20" ($125.00) to 23" x 30" ($275.00)
Are Giclée Prints for you?
If you desire a large, state-of-the art print with incredible detail and brilliant color, a giclée print is for you. Contact the artist for further information about available giclée prints.